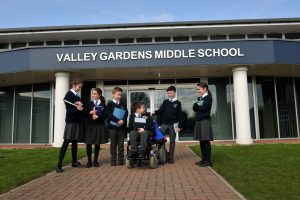 Hello and welcome to the SEND (Special Educational Needs and Disabilities) section of our website here at Valley Gardens Middle School. We are a fully inclusive school which aims to ensure that all pupils achieve their potential personally, socially, emotionally, physically and educationally.
At Valley Gardens Middle School, we embrace the fact that every child is different and, therefore, the educational needs of every child are different – this is certainly the case for children with Special Educational Needs and/or Disabilities.
In terms of what we offer children with Special Educational Needs and/or Disabilities, this is different for every child and it is important to emphasise that, as much as possible, this provision is designed by the relevant staff members working alongside the child, the child's family and, where necessary, outside agencies (e.g. a Speech and Language Therapist or an Educational Psychologist).
A child with Special Educational Needs and/or Disabilities at Valley Gardens Middle School will have a SEND Support Plan which sets out targets and looks at what additional provision can be put in place. The SEND Support Plan is written in collaboration with our children and families to ensure that a holistic picture of need is identified and targets are set out together.
The content of the SEND Support Plans have a focus on the process of 'Assess, Plan, Do and Review'. This is a continual cycle in which staff look at any needs and act on these accordingly, so that the best possible provision can be put in place. For many children, support targets will be connected to learning and will often be specifically to do with English and Maths. For other children, they may be to do with communicating with children and adults or overcoming physical issues (for example fine motor control). The most important point is the support targets depend on the needs of the child.
We have an ARP (Additional Resource Provision) on site which caters for up to 5 pupils with moderate learning difficulties. We also have an in-house provision called 'Anchorage' where students will be supported with their mental health following growing numbers of emotional based school avoidance as a result of the pandemic.
Miss Wilson is our SENDCo (Special Educational Needs/Disabilities Co-ordinator) & Assistant Headteacher.  Please feel free to contact her via the school office on 0191 917 6667 or by email on [email protected]. She will be more than happy to make an appointment to listen to any questions or queries linked to your child's needs.
Please find details of our offer to pupils with Additional Educational Needs and/ or Disabilitiies in the useful documnets below:
                           
The North Tyneside Local SEN offer can be viewed by clicking on the following link :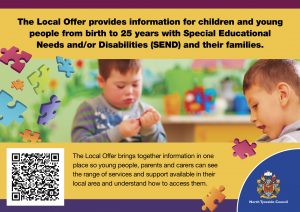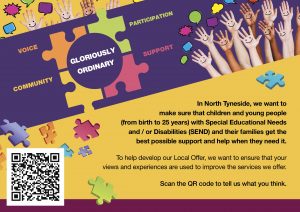 The Valley Gardens SEN Information Report can be found by clicking on the following link:
The Valley Gardens SEN Policy can be found by clicking on the following link:
The Valley Gardens Accessibility Plan can be found by clicking on the following link:
ARP – Additional Resource Provision
ARP stands for 'Additional Resource Provision'. Valley Gardens Middle School has a five- place, inclusive provision within the mainstream school, for pupils, aged 8-13, who have Moderate Learning Difficulties.  We have teachers who work with pupils to address their specific learning needs, as well as Teaching Assistants to support them in lessons across the curriculum and deliver additional interventions. This approach makes effective use of a range of teaching and learning styles, differentiation, small group work and learning support in order to raise the achievement of its pupils.
The curriculum offered within the ARP is bespoke, catering for the specific needs of individual pupils. We want our pupils to achieve the very best they can, acquiring functional skills in English and Maths so they are able to lead fulfilling and independent lives. We also seek to boost skills holistically to prepare our pupils for young adulthood and beyond. 
Provision in the ARP goes beyond the differentiated approaches and learning arrangements provided by quality first teaching. We provide high quality teaching and learning experiences in small groups or on a one to one basis in an environment where children feel safe to voice their opinions and needs. Lessons in the ARP use an 'I can' philosophy. We recognise success, however small, and aim to build up a positive working ethos which boosts the self esteem of our pupils. A targeted pace of learning gives additional time for pupils to explore and process concepts. Strategies to promote memory and recall are in use on a daily basis, and this 'overlearning' helps to embed what has been learnt before.
Programmes of work are developed by working with, and following the advice recommended by a range of external agencies from both education and healthcare settings. These include Educational Psychology, the North Tyneside Dyslexia team, the Language and Communication Team, CAMHS, Speech and Language Therapy and Occupational Therapy. We work in consultation with families and pupil progress is monitored at least termly.
For further information linked to our ARP, please see the document below:
                   
North Tyneside's approach to supporting Dyslexia
North Tyneside's Policy – Literacy Difficulties & Dyslexia
North Tyneside's Dyslexia Team's Local Offer
Support and advice for parents and carers
North Tyneside CAMHS have created some short workshop videos which can be found through the link below and cover topics such as:
Attachment and adverse childhood experiences
Autism and anxiety
Tics
Low mood and depression
Anxiety
Managing difficult behaviour
ADHD Brain
Understanding Autism
Child and Adolescent Mental Health service (CAMHS) – Northumbria Healthcare NHS Foundation Trust (please scroll to the bottomw of the page to access the workshop videos)
The special educational needs and disability information, advice and support service (SENDIASS) is a specialist service that can help and guide you in all aspects of special educational needs.
They provide:
General advice and information to children, young people, parents and carers
Impartial and factual support on all aspects of the SEN framework
Help with the planning and the assessment process of an education, health and care (EHC) plan.