We believe all pupils at Valley Gardens should have the opportunity to:
Understand the world in which we live and have opportunities to explore our cultural and societal similarities and differences.
Be equipped for life in a global economy and society.
Experience strong local, national and international cohesion.
Learn other languages and about life in the countries where those languages are spoken.
Have learning experiences with a strong global and international dimension to them.
Engage with international partners from across the world to broaden pupils' experiences and learning opportunities. As a result as a school we will continue to develop and seek international partnerships.
Engage with ICT in a creative way to share and develop international projects and partnerships.
As a result our curricula are designed to ensure a variety of countries and global contexts are studied, from learning about volcanoes and eruptions in Iceland, to finding out about Japan as part of our work on Kensuke's Kingdom. In addition, all pupils have the opportunity to learn two languages as part of our curriculum, French in Years 5-8 and Geran in Year 8.
International Visits
We have a programme of International Residentials which run throughout each academic year:
Year 6 – PE and Languages Visit to Paris, France
Year 7 – Ski Visit to Austria
Year 7 / 8 – Geography Fieldwork Residential to Iceland
Year 8 – Languages Visit to Rhineland, Germany
Year 8 – Ski Visit to Austria / Italy*
Other International Work
Annually we hold our  Bastille Day celebration, to celebrate France's Fête Nationale. Pupils take part in a wide range of assemblies, events and lesson based activities to help broaden pupils' experiences and help them to reflect on their own experience as a global citizen.
This year Julien Poulalion, from La Petite Crêperie came in to show us how crêpes are made – we even got to taste them! Everyone got a chance to have a conversation in French and practice their skills whilst ordering a crêpe. Pupils also took part in a Tour de Valley, activities around prominent French people, such as Marie Curie, Descartes et Pascal and also build their own mini Eiffel Towers! We even got dressed up for the occasion. Check out some of the images from our day here:
We also often have visits, assemblies and performances from organisations, which help us to think about our language learning! This year we were lucky to have Neil Sillence visit us – he is one of the Young Goethe Ambassadors from The Goethe Institute. Neil was a former student at Valley Gardens, who has gone on to study German at Edinburgh University. He came back to speak to us about how learning a language has opened doors for him!
We also had a theatre visit from Théàtre Sans Frontières, who performed Les Aventures du Lapin for our Year 5 pupils. It was an amazing performance and pupils learned songs in French so they were able to participate in the show!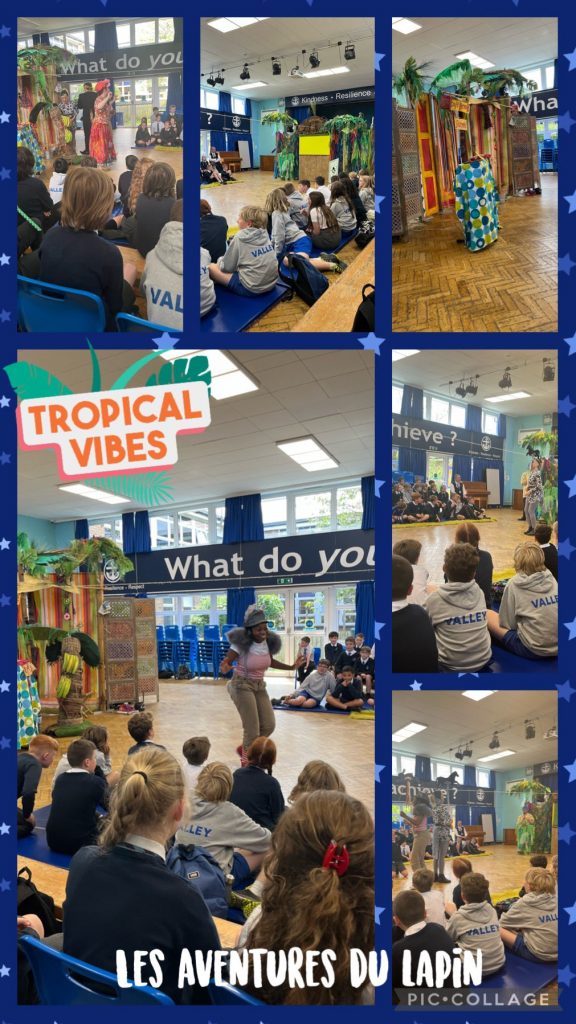 Pupils also have the chance to attend our Mandarin Chinese Club. This is run after school in conjunction with native Chinese teachers from the Confucius Institute at Newcastle University. Pupils have the chance to learn some basic Mandarin and learn about cultural events such as Chinese New Year. Below you can see photos of our pupils trying some Chinese foods and making some Chinese dragons!
International Links
We are lucky to have established school partnerships for this year with schools in Poland and Germany. Look out for updates throughout the year on this page and on our Twitter feed under the hashtag #International.
* (This alternates yearly)