VGMS School Student Council 2021-22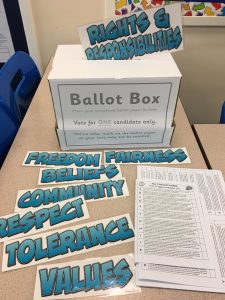 Our Student Council is a body of students elected by their peers in a formal election setting. They represent the views of all the students at Valley Gardens and they consider ways to improve the school. There are representatives from each year group who discuss matters about their learning and school life and raise any concerns with the Senior Leadership Team.
Our vision is for all students at Valley Gardens Middle School to have their voices heard and make our school a caring, safe and healthy environment for all, by promoting our core values: kindness, resilience and respect.
Thank you to our elected Student Council 2021-22 for all of your hard work last year – elections will take place for new student council representatives on the week beginning Monday 10th October 2022.
Current Year 6 Representatives:
Arran McFarlane
Charlie Oates
Reece Thompson
Dominic Devereux
Alexander Kirkley
Leo Moss
Current Year 7 Representatives:
Martha Hollyman
Ellen Maule
Sophia Anderson
Lula Rochester Peary
Marcus Box
Imogen Hearn
Current Year 8 Representatives:
Amy Johnson
Luke Brunt
Jacob French
David Milligan
Victor Emary
Emily Hodgson
Houses of Parliament Trip Report
By Sophia Anderson
The day began with us getting on the metro and riding to Newcastle Central Station. We got onto a 3 hour train ride and got to Kings Cross.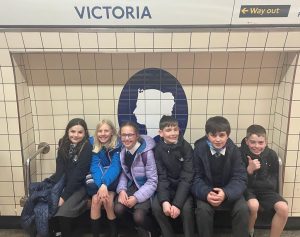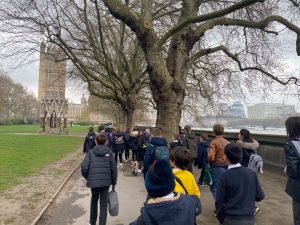 We then walked to Westminster and waited to go inside the Houses of Parliament. We went inside and had to go through some security, which was very similar to airport security. Our tour guide, William Bruce, gave us headphones because it was a silent tour. We started walking through the building and saw some wonderful sights. Then, we went up some stairs and made our way into the Central Lobby. It was very unique. On the walls there were statues of past kings and queens, beautifully carved. On the ceiling was a magnificent chandelier. There was even a mini working post office inside.
We then got the pleasure to go inside the Public Viewing Gallery of the House of Commons! At the time, most of us didn't really think we were going to watch the debate, but then we went through a room and our tour guide told us we had to be silent. The teachers had to hand all electronics to the doorkeeper at the desk. The door keepers actually wear a part of the crown jewels which means they are allowed anywhere in the building!
After that, we went into the viewing gallery and watched the debate (Sajid David was speaking)! We had to take our headphones off to hear what was happening. I was so amazed. We learnt that people in the House of Commons are elected and called MPs. Everything was green and gold which represents nature and life.
After the debate, we put our headphones back on and listened to William. He told us about how laws are made and debated in the House of Commons, but then get sent off into the House of Lords to get checked. Unfortunately, we couldn't get into the House of Lords, but we still learnt a lot about it. MPs are in the House of Commons, but the House of Lords representatives are called Life Peers. The difference between them is that House of Commons MPs are elected: House of Lords members are appointed. For example, someone is very very good at their job, if someone notices them they might recommend them to become a Lord or Life Peer. It also could be family tradition so the role will be passed down the family on and on.
Once we got b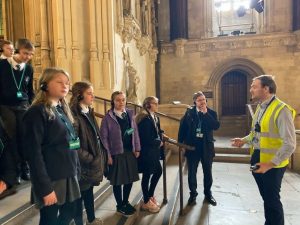 ack into Central Lobby, William also told us, that once the law get made in the House of Commons then passed to the House of Lords; the Lords check it and can tweak it a bit. If they change or tweak it, it will be sent back to the Commons to go over. If they change it or leave it as it is, it will get sent back to the Lords then eventually they will agree and make a law. The process of bouncing laws from one house to another is called 'ping pong'.
At the end of the tour, we did a quiz about what we had learned. We then acted out our own debate about creating a law to ban cigarettes and it was really fun. All of the people that spoke had great reasons about how to get to action. Some people said slow it down gradually, some people said just stop it, and some people said that we can't stop it. It was a very good debate, but I think trying to gradually ban cigarettes won.
We then left and walked to the Tube station to end the day. We took 2 tube trains and one 3hour train. All of us were very lucky to be taken on the trip.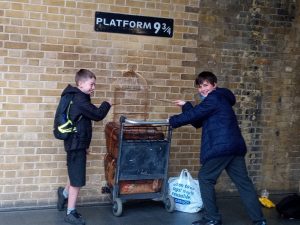 Thank you Mrs McElderry and Mr Dibden for the wonderful trip.
Student Council 2021- 22
Last year, our Student Council were extremely active and achieved so much despite the majority of their meetings and work taking place online. They were dedicated to having the voices of their classmates heard and promoting our values of: kindness, resilience and respect in all aspects of their work. Here is a outline of some of the work they were involved in:
Members went on a day visit to the Houses of Parliament. This involved travelling to London for the day and our members were given a guided tour of the House of Commons. As well as this, our councillors were able to take part in their own debate in which they had to decide upon a new law. Throughout this trip they embodied our core values of kindness, resilience and respect, and they were a credit to themselves and our school.
Pupils have given their feedback on how we separate different year groups at break and lunch times, and their suggestions for how we make sure this is fair and that everyone is safe have been taken on board.
The area for pupils to store their scooters has been raised as one of concern, as they feel that this is not done in a very respectful way. Members of the council have offered to be monitors for the scooter racks, and will write down a description of any scooters that are regularly being left in an untidy way so that the owners can be educated about responsible use of their scooters.
Councillors have fed back on the use of metacognition within lessons in our school. They have enjoyed this project and are enthused to see it being used across the curriculum.
Members have given detailed feedback on the school planners. They have discussed what they like about the current planners, and also suggested some improvements. Improvements for future planners included having additional pages for login details, rearranging the order of different sections and including contents pages so that pupils are able to navigate their planners more easily.
Pupils have contributed to the school anti-bullying policy, and have contributed to the design of resources to promote anti-bullying within our school.
Councillors have raised concerns about extra-curricular clubs taking place at the same time, limiting the number of clubs that pupils will be able to attend. This concern was passed to Mr Best, and the scheduling of clubs will be varied so that pupils can attend as wide a range of clubs as possible.
Toilets within school were mentioned as an area of concern by the school council. Pupils have regularly reported issues with the toilets, and via the school council messages have been passed on to the caretaker team to conduct any maintenance that is due.
Student Council 2020-21
This was an extremely successful year for our school council, and here is a outline of some of the work they were involved in:
Year 5 councillors attended an online webinar hosted by the UK Parliament learning all about the Role of the UK Parliament.
Contributed to our new 'Code of Conduct' which was launched across the whole school and appears in every classroom
One member wrote to our local MP, Sir Alan Campbell about ways to improve walking and cycling routes. Her idea was sent to the Transport Minister to see if a law can be passed. See tweet.
They discussed and created a document of how to improve the Epraise system in school and came up with many improvements which will be rolled out this year.
They wrote to parents to ask them to support a non-uniform day to raise funds for Student Council in order to purchase mirrors for the toilets which was a priority for many pupils and also the Epraise shop.
Councillors wrote messages to Year 4 telling them about what to expect when they join Year 5.
Some of the team were involved in transition activities: visiting Year 4 at their First School and also giving tours of our school to get them ready for their new school.
They requested to have their own area on the school webpage to update everyone on their priorities for the year.
Student Council members took part in various pupil panels last year, including meeting with the Director of Education; our Safeguarding Governor and interviews for new staff member appointments. They also came up with questions to ask at the panels.
They asked their classes for books they would like to see in the library after a fundraising event. They compiled a list of books, including a budget spreadsheet.
Mr Godfrey asked for their feedback on our new assessment system and shared them with the whole staff.
They compiled ideas of how to improve the school entrance area to make it more warm and welcoming. Their ideas were realised and it is now a lovely space with comfy chairs, cushions, plants and pupils' artwork.
Some of our councillors are also part of Eco-Club and organised an 'Earth Day' drop-down afternoon for the whole school.
Key Stage 3 councillors spoke to all classes and in assembly about the role of a student councillor and why it is important to represent your class and have your voices heard through a democratic voting process.