Mental Health Support Pathway
Valley Gardens Middle School takes the mental health of all staff and pupils very seriously and we recognise that there will be times when our young people require extra help and support in their lives.
Your child may be going through a difficult time, or you may be concerned about their mental health.  There may have been a bereavement in the family or some other form of trauma that has impacted negatively on your family.
The school can offer a range of support at such times.  We operate different levels of support depending on the need of the child and follow a progressive pathway to make sure they get the support they need. The diagram below indicates the strategies and approaches we use and the order of progression.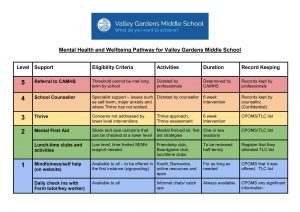 How to get help
FOR SHORT-TERM SUPPORT:
If you require immediate support (such as a mental health crisis) please contact your child's form teacher to immediately discuss your concern.  This can be done either by phone or email.  If you do not have a direct address the school office will be happy to pass on your details to the relevant person.
FOR LONG-TERM SUPPORT:
The school pastoral team meets weekly on Wednesday mornings to discuss support for new cases. If you feel your child requires longer term input and support through our Mental Health Support Pathway, either contact your child's Form Teacher or Head of Year or you can complete the helpful form below.
This information will then be used at the pastoral meeting to determine the best support for your child.  Please note that for some services there is a waiting list.
Referral Form
School Counselling
Valley Gardens is pleased to be able to offer our young people access to a school counsellor. Counselling sessions take place within the school's designated counselling room, within school hours and with as little disruption to their lessons as possible. Initially 6 sessions are offered – once a week for 50 minutes, this is reviewed on session 5/6 where more sessions can be arranged if necessary.
Mrs Debra Coldwell is the schools full-time counsellor and if you feel that counselling may benefit your child, you can complete a referral below.
You can also contact Mrs Coldwell via email if you have a query: [email protected]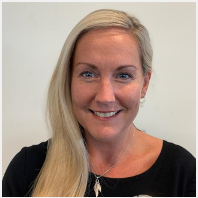 What is counselling?
Counselling can help with any issues that may be negatively impacting your child, allowing them to explore their worries and anxieties in a safe and confidential environment.
Counselling can help your child with a wide range of issues; bullying, anxiety, low self-esteem, bereavement, self-harm, sexuality, family and relationship difficulties, friendships and eating issues. Sometimes these problems can be difficult to talk about with parents, friends or teachers, a counsellor is someone you can talk to in a different way where they will listen without judgement.
Early intervention addressing mental health issues at a younger age can help prevent difficulties later down the line.
All counselling sessions are confidential between your child and the counsellor, unless a risk of harm to self or others is disclosed, in which case the relevant safeguarding procedures will be followed, in order to keep everyone safe. This would be discussed beforehand and dealt with carefully and sensitively.
All personal information and data is stored securely, record keeping of session notes is stored electronically and in password protected files. Data is not shared with any third party organisation, unless previously agreed or in the interest of Child Protection and Safeguarding.
Parental consent is needed for counselling to take place.  If you have been offered counselling, then please complete the downloadable consent form and email it to:  [email protected]
Parent Counselling Consent Form
Thrive
Valley Gardens is an adopter of the Thrive model.  Thrive is a trained approach that aims to support the social and emotional development of children and young people.  The school currently has two Thrive practitioners, Mr McIntosh and Mr Poxon who are able to assess and work with children who may benefit from this approach. They will be happy to talk through how the Thrive approach may benefit your child.
Mental Health First Aid
We have a range of staff trained as Mental Health First Aiders who are on hand to offer support, guidance and techniques to support the wellbeing of our students.
Our Mental Health First Aiders carry out two key roles:
Mental Health First Aiders are available during every break time for students to drop in and share any worries or concerns. Staff will signpost students to resources and techniques as well as being a friendly and familiar face pupils can turn to.
During our pastoral triage system, Mental Health First Aiders are directed to work with students at a dedicated point throughout the school day to support mental health needs in a more focused and targeted way.
Our Mental Health First Aiders are:
Mrs Leigh
Mrs Charlton
Miss Scurfield
Mrs Goel
Mrs Ferguson
Early Help Assessment & CAMHS
The school also works with external agencies and we are happy to support and help with a referral to Early Help.  Early Help is a process that is run by the local authority.  Professionals and family members are able to meet to have discussions on how best to support the family and put the steps in place to help support.
The school is also happy to help support with referrals to CAMHS (Child and Adolescent Mental Health Service) who can assess your child and put mental health support in place.