At Valley Gardens, we aim to inspire pupils to become inquisitive, confident and problem-solving scientists. Our bespoke curriculum from year 5 to year 8, aims to allow pupils to develop and deepen their understanding of key scientific concepts in upper key stage two and key stage three of the national curriculum for science.  Through our teaching, we aim to prepare pupils well to achieve success at GCSE and beyond: to pursue careers in STEM, foster a life-long interest in science and fully develop their science capital. Incorporating a rich mixture of scientific disciplines, we aim to deliver relevant and challenging content that fully embeds working scientifically skills through an investigative approach to learning.
Through building up a body of key foundational knowledge and concepts, pupils should be encouraged to recognise the power of rational explanation and develop a sense of excitement and curiosity about natural phenomena. They should be encouraged to understand how science can be used to explain what is occurring, predict how things will behave, and analyse causes.
What does science at Valley Gardens look like?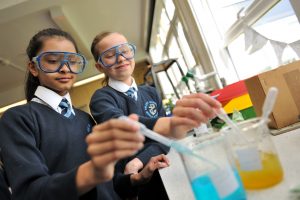 Our pupils enjoy being challenged and learning science in a variety of ways including investigative work. They thrive on work that is challenging but achievable. They enjoy experimenting and learn science best through experiential activities. In Key Stage 2, pupils have two lessons per week and KS3 have three lessons. We plan engaging lessons with a focus on practical tasks, group work, discussion and investigation.
We develop pupils' progression in working scientifically skills throughout their four years at Valley Gardens building ever increasing challenge. Key concepts and content from the science curriculum for upper KS2 and most of KS3 are taught at are delivered at age appropriate times across the 4 years at VGMS without restricting to key stage. During lessons, we explore scientific concepts using a range of learning experiences and embed pupils' knowledge using a variety of retention strategies including knowledge organisers, quick quizzes and  frequent progress checks. Pupil progress in both knowledge and understanding of the content and their skills development is monitored and recorded using target tracker and personal pupil progress sheets. Pupils are supported in their learning to allow all pupils to access the curriculum at an appropriate level of challenge. 
---
Curriculum Overview
---
CURRICULUM MAPS
---
Follow the Science department on Twitter