Music is a unique way of communicating that can inspire and motivate pupils. We work on the premise that all pupils are musical and have the innate ability to play, sing, listen, create and express themselves. At Valley Gardens Middle School, we aim to provide learning experiences that are tailored to develop each pupil's musical ability, enriching both pupil's education and their lives. Music has the facility to impact and benefit our pupils as we prepare our pupils with a broad and varied range of skills and qualities that are both relevant and transferable.
Each class receives one music lesson per week taught by a subject specialist in a block of classrooms which are fully equipped with a good range of high quality classroom instruments.
Music seeks to provide each pupil with the knowledge, skills, interest and enthusiasm which allows them to engage with the subject in such a way as to provide them with exciting opportunities and experiences in order to develop their understanding and enjoyment.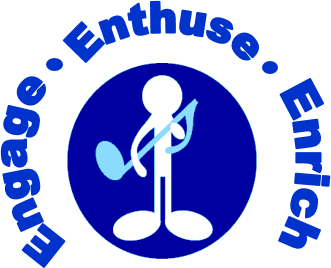 Through the three strands, Present, Create and Observe, pupils are taught to:
Present – play and perform in solo and ensemble contexts, using their voices and playing musical instruments with increasing accuracy, fluency and control.
Create – improvise, arrange and compose music for a range of purposes using staff and other musical notations.
Observe – listen and explore how music is created and begin to appreciate and understand a wide range of high-quality live and recorded music drawn from different traditions and genres.
Each of the strands builds on the musical elements providing a strong foundation on which all music is built.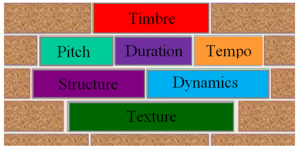 Please see the Music Department Curriculum Maps below.
Below are just some of the skills and qualities our pupils gain from studying music.
---
Music Department Curriculum Maps

Pulse (Unit 1)
Introduction to the Music Department.
Ice breaker game which uses pulse.
Consider the importance and the impact of the pulse within the game.
Perform an exercise using pulse.
How do I keep a steady beat?
How to improve my coordination using body percussion.
How do I count in?
How do I stay in time with others?
How do I perform in front of others?
How do I listen as a member of an audience?
How do I comment on something I hear?
Exploring Pulse
How are the beats organised in a piece of music?
Where is the strong beat in a piece of music?
How can I tell what time a piece of music is in?
What are bars and bar lines?
What is a time signature?
What is the job/role of a conductor?
How does he keep the players together?
Can I conduct a piece of music?
Rhythm and Pulse (Unit 3)
What is the difference between pulse and rhythm?
What do the different notes look like?
What are the different notes called?
How long to the different notes last for?
How do the notes relate to the pulse?
Can I read, write and clap a rhythm?
How do I structure and organise a rhythm?
Can I perform a rhythm as part of a group counting in and keeping the pulse?
Can I perform and create a drum rhythm?
Elements of Music
What are the ingredients of music?
What effect do they each have?
Pitch Soundscape (Unit 4)
How can I create a piece of music using the elements of music?
What instruments help to create the effect I need?
How do coordinate my ideas when working with others?
How do we layer the sounds?

Music Notation – Pitch (Unit 5)
What is pitch?
How many notes are there in music?
What are the names of the notes on the stave?
How music developed into notation?
Can I identify the pitches of notes on the stave?
Cam I draw the notes on the stave?
Can I tell if a note is higher or lower in pitch?
Melody
Can I identify the ways a melody can move?
Can I sing a variety of melodies?
Can I identify the different ways composers change the same melody using the musical elements?
Can I comment on the effect this has?
Can I use music vocabulary to describe things I hear in the music?
Solo Performing Unit 6
Can I take the pitches of the notes learnt and play them on an in instrument?
How many notes can I play in a melody?
Can I perform on more than one pitched instrument?
Can I perform my melody for others?
Can I set myself goals?
Can I monitor my own progress?
Can I work independently?
Folk Music Unit 7
Can I identify the features of folk music?
Do I know what instruments folk music uses?
Why are a lot of the composers unknown?
Why are there so many different version of the same song?
Who shaped the music?
Who are some of the songs about?
What can we learn about the time these songs were sung in?
What is a drone?
What instruments can play a drone?
What is a pentatonic scale?
What are major chords?
How can drones and chords be used to accompany a song?

Year 7
Arranging Unit 8
What is a scale?
What is advertising?
What is a mode?
Can I extend the number of major chords I use?
What are minor chords?
Can I play more significant melodies from notation, by ear or memory?
Can I use the musical elements to help identify features in a piece of music?
Can I compare and contrast pieces of music?
How did other composers develop their ideas?
Can I arrange a piece of music using different ideas?
Can I work contributing ideas as part of a group?
Can I perform as a member of an ensemble?
Can I demonstrate my knowledge of being able to create the structure of a piece?
Notation – Tablature Unit 9
What is tablature?
Can I read from different notation?
How to tune a ukulele?
Can I coordinate my part to play as a duet?
Notation – Graphic Scores Unit 10
How is music represented through sound and symbol?
Can I interpret different symbols to make sounds?
Can I create sounds and design the symbols?
Can I perform another composer's graphic score?
Can I design my own graphic score?
How did other composers do this?
What period of music did this come from?
Who wrote in this style?

Samba Unit 11
What is samba?
Where does samba come from?
Can I perform as a member of a samba group on traditional instruments?
What structural ideas make up this style of music?
Can I design a piece that makes use of these ideas as part of a group?
Can I feedback to other groups on the ideas they have used?
20th Century Music Unit 12
What is 20th Century music?
Which composers wrote in this style?
Can I identify features of this period in the different pieces of music I listen to?
Can I reproduce some of the ideas to design a 20th century piece of my own?
Music and Advertising Unit 13
What is advertising?
How does advertising target audiences?
How is music used to sell a product?
Can I identify how and why different pieces of music are used for certain products?
Can I identify techniques used in advertisements?
Can I design my own product and sell the product using music?
Please click on the images below to find out more:
---
Follow the Music Department on Twitter