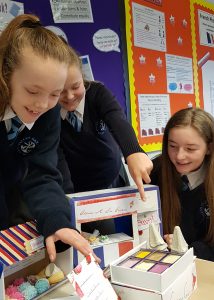 Languages are part of the cultural richness of our society and the world in which we live and work.  Learning languages contributes to mutual understanding, a sense of global citizenship and personal fulfilment. People learn to appreciate different countries, cultures, communities and people. By making comparisons, they gain insight into their own culture and society. The ability to understand and communicate in another language is a lifelong skill for education, employment and leisure in this country and throughout the world.
In our classrooms learning languages gives pupils opportunities to develop their listening, speaking, reading and writing skills and to express themselves with increasing confidence, independence and creativity.  They explore the similarities and differences between other languages and English and learn how language can be manipulated and applied in different ways. The development of communication skills, together with understanding of the structure of language and the laying of foundations for future study of other languages, support the development of literacy skills in a pupil's own language.
Through the study of French throughout the school and German in Year 8, pupils can study languages from two very different linguistic families and explore the differences and similarities between their own native languages as well as the two languages themselves. Through this offer, pupils can benefit from a greater choice of option subjects as they make the transition from Valley Gardens Middle School into Year 9.
French is taught to all pupils. In Key Stage 2 the emphasis is on communication in the classroom, problem-solving and building a firm foundation of key vocabulary and phrases in preparation for Key Stage 3. In Key Stage 3 pupils are encouraged to be more independent in their learning and to become more creative and spontaneous in their use of language, exploring different and more complex grammars and syntax in both verbal and written form. Use of ICT is built into topic areas where appropriate and interactive whiteboards, I-pads are used creatively in all MFL classrooms.
The emphasis in the department is on real language for real purposes. To this end we encourage pupils to practise their foreign language skills on the regular French and German trips. Pupils are also encouraged to take part in the enrichment activities we offer, such as our popular MFL Pop-Up Cinema Day, where pupils create their own foreign language films at the Tyneside Cinema. We have regular links with Théâtre Sans Frontières, who offer pupils the chance to view French theatre productions both in school and in a theatre setting. At Valley Gardens we also benefit from regular links with Newcastle University and offer pupils the opportunity to visit the university and cook at the "digital kitchen" in French. Every year, Year 7 pupils take part in Bastille Day celebrations where activities such as 'Tour de France' Cycling, learning about the French Revolution, ordering crepes in French from La Petite Crêperie and learning French through football. In addition we offer a selection of extra-curricular language lessons, both Spanish and Chinese.
The Modern Foreign Languages Department has gained the Gold Standard of the North Tyneside Primary Languages Quality Mark, in recognition of the teaching and learning opportunities awarded to our pupils.
Curriculum Overview
---
MFL Resources
MFL Awards

North and South Tyneside Primary Languages Gold Award
Follow the MFL Department on Twitter